Music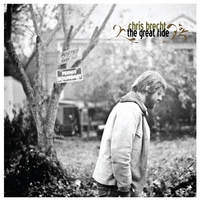 Marquee Magazine: If you were disappointed by Adams' Cardinology get this instead and you'll be happy. - Denver, Colorado.
SEATTLE WEEKLY:  In a lazy drawl that sounds like a hybrid cross between Ryan Adams' soulful North Carolina slur and Bob Dylan's off-pitch, nasal mutterings, Austin songwriter Chris Brecht croons about trains, lost love and the nomadic life with the same passion and timeless appeal of greats from Woody Guthrie to Willie Nelson. And his devotion to all things retro extends to his songwriting and recording techniques: not only does he use a typewriter to put his poetic travelin' songs to paper, his debut album, The Great Ride, was recorded entirely to 2″ tape. "I don't think I'll ever make a digital record, anymore," Brecht says. "I don't think that tape really makes [music] sound old or vintage; I just think that tape adds such a warmth and beauty that digital can't quite capture." This will be Brecht's very first Northwest tour, and though he's flying solo this time, he hopes to return by car soon with his full band, including organist Matt Mollica and his Hammond B3 (because Mollica refuses to play an electronic keyboard, ever.) Let's hope gas prices don't make that tour impossible, because the full band complete with B3 will be a sight to behold. If Bumbershoot and its country-heavy lineup isn't in the cards for you this weekend, checking out Chris Brecht should be.www.seattleweekly.com
Willamette Weekly – Portland, Oregon- It's always nice to run across something suprising in the mail. Such was the case with Austin troubadour Chris Brecht's 2008 release The Great Ride. The album is lyrically desperate, funny and poetic—something there's plenty of time to consider given the sparse production. Brecht sounds somewhere between Loudon Wanwright, Alex Chilton and Slow Train Coming-era Bob Dylan. And despite the name drops here, Brecht is unique: His delivery is resigned and but not dispassionate, his songs homespun but not overly sentimental. And slide guitar just kicks my ass. CASEY JARMAN.
Have Guitar, Will Travel – the Santa Fe Reporter – There are an infinite number of young, aspiring musicians armed with nothing more than a guitar and a ravenous appetite for success. But only a few ever make it as professional musicians. Austin-based singer-songwriter Chris Brecht is one artist who managed to crawl out of the masses to begin an impressive alt.country career that brims with promise.
the Austin Chronicle: "It's testament to the Austin songwriter's talent that The Great Ride is a trip worth retracing…" – Doug Freeman The Austin Chronicle
8 out of 10. Brecht is a troubadour in the Dylan sense. Wordy, poetic (with nods to the Beats) and existing in a space between Blonde on Blonde and the Basement Tapes. This is a collection of ten songs which, while rooted in Dylan's late sixties sound, stand up on their own two feet and demand to be heard. ….this is an excellent debut. … I reckon Brecht has the potential to go places if he continues in this vein. – Paul Kerr Americana UK

Austin Sound: Brecht brings alt-folk-country to Austin with scruffiness, Woody Guthrie and beat poet lyrical undertones that make you feel like you are sitting shotgun with Kerouac at the wheel. The Great Ride, Brecht's first full-length studio album release on Dead Leaf Records, hit the airwaves earlier this year and combines a nasal folkiness with guitar strums and lines of unfeigned poetry while sliding in harmonica, fiddle, Hammond B3 organ, and background harmony. The album has a freedom and restlessness with a folksy, bluesy, rock backbone. – Kathryn-Terese Haik Austin Sound
5 stars…. ***** - www.altcountry.nl
5 Stars…. ***** - www.ctrlaltcountry.be